X-POLE Australia have supported MANY local events, big & small!
Investment in our Aussie polers & local events - whatever their genre is an investment we believe in the growth of pole in Australia.
Events:
SEXPO Australia – Sexuality and Adult Lifestyle Exhibition (2006 & 2007)

Major sponsor of the 2009 Australian Pole Dance Championships which is still being repeat broadcast on Fox Sport's action sports channel, FUEL TV which has a reach of 650,000 viewers.

Major sponsor of the Asia-Pacific Pole Dance Championships held in Australia 2009-2011

Major sponsor of the Australian Pole Fitness Championships 2011-2013

Exhibitors at Australian Fitness Expo 2010-2013

Exhibitors at Australian Adultex Expo 2010-2013

Pole Reflections International Showcase – 2011 – Sydney Theatre (cost $120k)

Pole Candy Semi-pro Championships 2010-2013

Newcastle Championships 2011-2013

Unleashed Competition – Victoria State finals 2008 – 2013
2012-2013 Sponsored:
Community:
National Breast Cancer Foundation

: a limited "Signature Edition" X-POLE branded poles, with donations of $100 from the sale of each set to the National Breast Cancer Foundation. This promotion raised over $12,000 for breast cancer



Sydney Children's Hospital

- Neurology.2007 Titanium launch -$7000 raised


Bundaberg Flood

"Unfortunately my home town of Bundaberg has been badly affected by flooding and unfortunately I didn't have enough time to save my x-pole … due to losing everything else I can't afford to replace my pole which as a fellow pole dancer I am sure you would understand is killing me … I loved my x-pole ...please I would greatly appreciate any help you can offer…"
The picture had over 1200 FB Likes & Kristy got her new pole!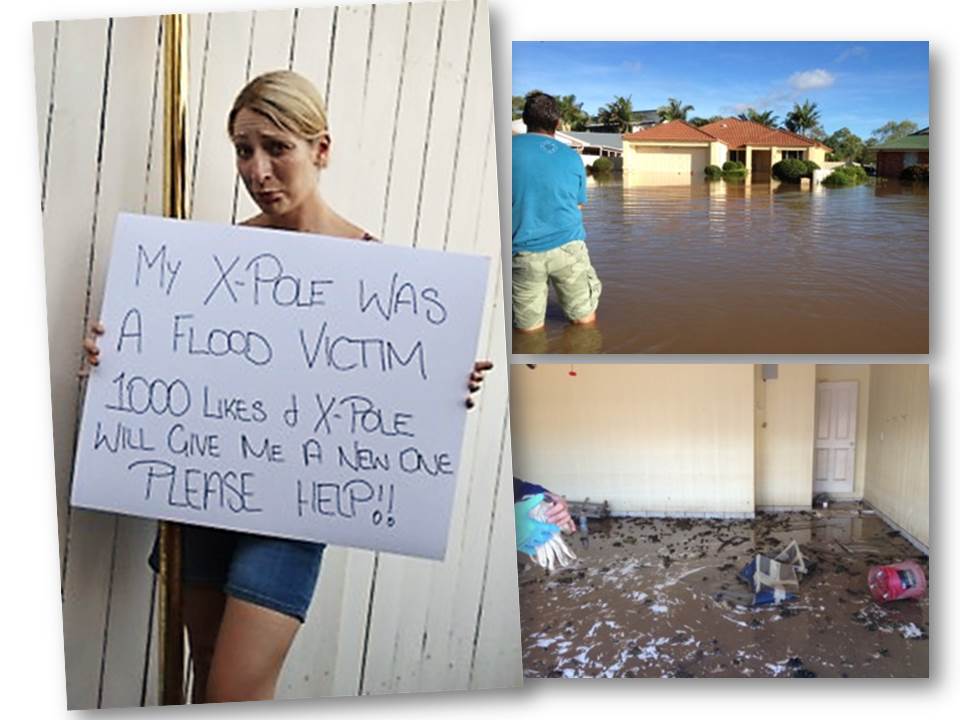 "Omg thank u so much to everyone who liked and everyone who made nice comments I just want to say a massive thank u to xpole Australia they were amazing and so kind and caring they didn't have to help but they were so understanding and supportive. I know alot of my friends will definatly be supporting xpole. Thank u to everyone for your support it is so heart warming I can't even put into words how much I appreciate it thank u so so much xoxo"

2013 - Pole Cruise competition - 2 tickets were give away to the 2 stories with the most FB LIKES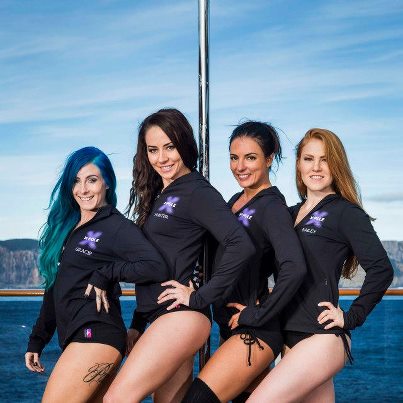 Picture by Vertigo (brad edwards)
Here were the entries...
Please be aware that this is all being done by nominated stories.
For this reaons privacy is a must. We have changed the names, deleted locations & taken out company names, to ensure people's privacy is protected.
If you think you know who someone is, PLEASE do not tag, or guess publically.
Once the winner has been decided, they will be notified & only after they have accepted, will we release names.
It is really important that everyone recognises all these amazing polers & doesn't play favourites.
Reading through all the lovely nominations has been such a pleasure - I wish we had more than two tickets now!
Please take your time, read each story & then vote on our Facebook page Poll.

http://www.facebook.com/pages/X-Pole-Australia/200995526621055
Good luck to everyone, congrats to those nominated & well done to those brave enough to put their own story out there...

x
Lil Miss Courageous
I'd like to nominate my friend to win the free pole cruise. I met her when I started pole dancing just over two years ago. I myself began after the unexpected breakup of my 12 year marriage. I was shy and didn't know how to make friends. One day in class I heard X talking about her marriage problems. I finally had something to talk to someone about, so I commented on something she said.
She was lovely to talk to and I made my first real friend, after years of no socialising. Turns out her marriage was abusive, and she helped me get over my devastation, and instill a little bit of self confidence in me, and I helped her pick up the pieces of a very traumatic situation. She was meant to be separating from her husband, but he wouldn't go away. Her solicitor advised to have nothing to do with him, but he wouldn't move out of the house X was now paying the mortgage on, on her own, causing massive financial struggles.
It's taken two years but she is finally free of him, but still trying to get her life back into place. She's doing it tough financially, still dealing with things emotionally. She channels all her anger and sadness into pole. She surpassed me about a year ago, moving up the levels quickly, and although I try and train just as hard as her, I hit a plateau, and seem to take forever to learn things, but she has been moving forward in leaps and bounds.
She is amazing, and I admire her tenacity and dedication, and optimism. No matter how bad her life is, she always picks me up, and is always there for me. I would love something to go her way, and pole is such a massive part of her life, I'd love to see her win a holiday she can actually enjoy. She has been a wonderful friend.
Thanks for considering my nomination.
Lil Miss Optimistic
I would love to nominate my friend X.
Without saying too much she has been through a lot and has had to deal with so much in her family life the past year especially with her brother who thrives on self-destruction.
I think that she needs time away time to relax.
I think it will be a great opportunity for her…
Lil Miss Dedicated
Nomination1: I nominate a student and fellow poler. X's love of pole is infectious and as a confided young woman she is a role model for any woman with confidence and image issues. X is a larger gal but that doesn't stop her taking part in competition night - which she won last year. X makes class better - on the days I complain about doing anything upside down, X will always spur me on an encourage me to keep going. I know how much this cruise would mean to X, I also know it is out of her budget- she graduated as a nurse last year but can't get work, like many nurses, due to state budget cuts.
I am a fan, supporter and puffy chest proud fellow pole friend of X - a fabulous and beautiful pole gal. She truly deserves a free ticket - you won't find another person more grateful or ecstatic to be on that ship!!

Nomination2: X started pole dancing in 2010 to gain confidence and fell in love with Pole, she started doing ten hours of classes a week and lost a reasonable amount of weight from this.
She became a receptionist at X as it had become a second home for her and was one of the most supportive and motivating students there.
She won the beginners student competition with her fun loving routine fully cementing that she was no longer the shy girl who had started a few years ago.
She has come such a long way since she started and is completely dedicated to pole and everyone who does it. For me she is one of the highlights of going to pole and is an fantastic inspiration for everyone who meets her.
X-POLE note: X nominated another pole person & was nominated herself by 2 people.
Lil Miss Mummy
I don't really know what makes me more deserving than the next pole lover, so I'll just tell you a bit about myself.
I'm 21 years old, & I have a just under 2 yr old son.
I have weight issues since I've had him, but not the normal too much weight but the opposite.. I've been stuck under 50kg since having him and along with the weight issues I've been an in and out of depression patient.
I've been doing pole again for around a year now and I Love pole more than most realise, it's my release, my escape where I'm not that "skinny chick" or "so n so's partner" or "X's Mum" (not that I don't like being called the last one :) ) and so on it's the first place in a long time where I'm just "me" again.
If I won this prize I'd be so stoked. I'd be a giggly, gitty fool, I'd love it. If I didn't win...then bugger but it was still nice to at least talk to someone about "me".
Sorry if I rambled, I do that sometimes :/
Lil Miss Nanna
I would like to nominate my mum, who just recently began poling in August 2012!
New to pole I know but I could not think of a more deserving person to win this trip. She has always been a wonderful loving dedicated mum of three and now a grandmother of four!
Works her butt off for everything she owns and would give anyone her last dollar!
She transformed her carport into a pole room that looks absolutely fantastic and gets out there as often as she can, she has trained herself and transformed from barely lifting herself to now going upside down on the pole, I'm very proud to say the least!!
Please consider her when choosing the winner/s as she would love to be a part it all…
Lil Miss Supporter
I'd like to nominate our fabulous pole instructor. Firstly, a personal recommendation for our trainer X as when she opened, it was the first of anything like it in our small town, something new and exciting to get fit....
But personally I was going through a very rough time, very very depressed as my family is overseas, not making many friends in this small town, lots of other complicated things going on in my life and then one day I met X and she encouraged me to join pole, I had no confidence and thought there's no way I could do that.
Well I gave it a go... At first it was just fitness for me, as I started taking more classes and getting to know X and learning from watching her how much she loved pole, I started to LOVE it...
To keep the story a bit short, I eventually became one of our show group, we do shows locally and are building our skills everyday, to say the least I have got my confidence back, actually I've got a confidence I never had before a new look at life, I have never been so happy doing anything else.
X doesn't know it but she has helped improve my life in so many ways just by being a fantastic instructor, coach and friend, she has unknowingly changed my life, I live to pole and I thank her for that, she is helping people gain their confidence and get into shape and love being themselves and showing it off and she's doing that everyday.
I had met another local girl a year or so before I met X, and I hadn't seen her in a long time then one night there was an event on at pole fit so I went to have a look... I saw this beautiful confident girl dancing and smiling and just loving life... She looked so familiar but I didn't think I knew her... After the event she came up to me and we started talking... Mid conversation I said 'oh my gosh, XX!! Is that really you!?!?' She had lost sooo much weight and had this lovely toned body and she had smile from ear to ear! NOT the XX I met a year ago.. I asked if this was all due to the pole classes and she said yes she was a pole girl...
X helped this girl turn her life around too.
If you ask me X deserves this cruise as she has three small children who she is a full time mummy to along with full time pole instructing. X is hard working and I think she deserves it!
Lil Miss Doer
My boss X is an amazing woman!
She owns XX where I work as a studio manager. She works so so hard to make sure that all her studios run with the utmost awesomeness!
She has been through some really hard times (though she would never talk about it). Starting up her business with a partner at the time who took advantage of her hard work and tried to sabotage her ability to succeed, raising a child as a single mum, almost having cancer putting her love of pole and her life at risk… and her losing her home and all her belongings in the hailstorm of Christmas Day 2011.
She loves to take on any opportunity to better herself as a pole dancer. I definitely think she needs a break. But she hates to sit still and do nothing.
So I think a pole cruise could be exactly what she needs to train herself better and prepare herself for more pole awesomeness.
Lil Miss Gutsy
I have recently opened my own Studio in a regional town. I have now provided a service to the ladies in our town, to open the first pole studio in our district. The nearest pole studio is a 2 hour drive from our town.
I have watched this sport develop for many years, however I always felt that 'OMG.. I could never do that!!'. Well I surprised not only myself, but everyone that knows me.
I am also a Police Officer, & a mum of 2 young girls.
I had little support to open the Studio with regard to my Superiors. and proving that Pole Dance was no conflict to being a Police Officer, which after a lengthy battle, was successful, proving that a pole studio was NOT a conflict of Interest with my position of a Police Officer.
I have overcome the preconceived opinions of my Superiors, Council, the older generation of our town, of what Pole Dance is all about and have been approved to open the Studio. I am extremely proud of what I have achieved and hope that the Studio is a great success. For the past 6 months have put every spare moment into training to open my own studio. This has incurred many hours on the road, time away from my young family, traveling and lengthy conflict with my managers.
I only started my own training in September last year, and due to setting up the business and not having a pole studio nearby, my training has been somewhat delayed, however I have given it 110 percent at every available opportunity.
My studio, myself, and the local ladies would benefit greatly from attending this cruise and being privileged to attend the workshops.
I would be so thankful for the opportunity to attend. I saw this Pole Cruise advertised last year and could only dream of attending, however due to financial obligations with starting a new business, I was not able to afford to attend. Please consider my application to attend this cruise. I would be extremely grateful!
Lil Miss Focused
Similarly to everyone else I'm sure, I am shamelessly nominating myself for one of the places available on the cruise. Hopefully I can convince you why in the next few minutes :)
I am currently 21. When I was going to high school, my mother was anonymously reported to child protection after some years of escalating emotional abuse. It was then that I was placed in foster care until I could finish high school, before moving to interstate, where my father lived, to start university.
However, things did not turn out so great with him either, as his wife made it very clear I was not welcome in their home. Soon after moving in, I had to leave another parent due to emotional abuse which I could not handle in my environment.
I felt lost and depressed at having two of the most important relationships in my life essentially break down in a matter of months. I found myself looking for something beyond university and work, something I could do just for myself that would fulfill me.
When I discovered pole at a local studio, it was just what I needed. It allowed me to escape and feel good for as long as I could keep dancing, and meet some of the kindest people I've ever met. I have not looked back since.
I adore pole. I am fascinated by everything to do with it, all the competitions, famous polers around the globe, performances, newly invented tricks and interesting floor work, all the different types of grip products and clothing available, even Chinese pole. I wake up dreaming about new moves!
Pole has given me a confidence and passion for life like never before, and I want to do it until I die. Before pole, I was heading down a road of poor lifestyle choices and depression. I have a new found strength, stamina, flexibility, fitness, and so much more.
Right now, I am currently unemployed - I recently finished my degree but the job market is proving incredibly hard to break into.
I've found myself in quite a confronting, transitional period in my life where I'm starting to have to answer some big life questions, and like a lot of others my age, I often struggle to answer just what it is I want to do with my life. The only thing that really keeps me sane right now is pole, however money is tight so I can rarely afford classes.
Every bit of money I do get is spent on pole. Last year I won a $500 scholarship for my good grades in a subject, and as soon as I received the cash I used it to buy my very own pole, and even though I only have a very tiny space in my room at the end of my bed, I always find a way to make it work.
I may not have a particularly inspiring story, but what I do have is an immense, undying passion for pole which allows me to soak up everything I learn about it, and spread that passion to everyone around me.
The cruise would be such an amazing opportunity (that I otherwise could not afford) for me to get to know more guys and girls in the Australian pole community, as well as meet some amazing polers such as Carlie Hunter (whose 'Granny' performance I will never tire of), Michelle Shimmy whose blog I read incessantly, and Bailey Hart who was so gorgeous in the recent Polecats show. And of course, to learn as much as I can.
Thank you for considering my nomination :)
Lil Miss Positive
While I do feel a little tacky nominating myself I thought 'You know what... screw it... I really do deserve this.'
My name is X, I'm 27... and I'm addicted to pole.
Since pole dancing I have lost 20 kilos, gained a load of muscle and even more confidence. It has changed my life in so many positive ways. So much so, I saved up and ordered my first pole a few weeks ago and it's at my studio waiting to be picked up.
When I started pole dancing I was 87 kilos. I could barely hold myself up. And when I did manage to hold myself up I had to work a lot harder than the other girls. I cried so many times in the car on the way home saying to myself 'I'll never be able to do this."
But I kept going. I wasn't going to give up that easily.
I trained, I ran, I gave up smoking, I practiced, I cried a little more, I went to the gym, I practiced some more, I stopped drinking, I started lifting weights... And today I'm 67 kilos, hand standing, hanging upside down and embracing the constant bruises on my legs.
I never thought I would be the girl to love her body and shaking all the good 'wobbly bits' in 7 inch heels and shorts.
My friends have seen a major change in me too. Not just physically, but mentally. Having suffered from depression and anxiety, pole dancing has been the creative release I have needed. When I'm dancing nothing else matters and I feel like I can do anything. I stopped taking my anti-depressants and I've never felt better.
My Mum saw me a couple of weeks ago and started crying saying "You've worked so hard and I'm so proud of you. You look happy and amazing. It's wonderful you found something you love so much."
I trained my brain that whenever I had a negative thought in pole class that said 'You'll never do this...' I used to say 'Watch me'.
The mentality that began from pole dancing as spread to every other part of my life. I push myself at work, I go for fun runs, I try new sports, I meet new people... I just say 'Yes' to life now. I know that might all sound terribly dramatic... but it's true. All because of one little pole and some kick ass heels I think I can own the world.
So why do I deserve this? It wasn't easy to get to where I'm at. I'm a happier, fitter, more positive person... and I want to embrace every opportunity I can get... and being able to be part of this cruise would help me continue on my journey to become the best version of myself I can be.
I'd be so very grateful for the opportunity.
Thank you for reading and I hope to be on that boat so very much…