X-STAGE bearing changes: Can I order different poles to use in my X-STAGE base?
Buying X-STAGE Insert Poles (PT code)
So, X-STAGE products have undergone a few changes over the years. Mainly & most obviously: changes to the bearings. This 'tips' section will only talk about the bearings as we have lots of people ordering extra insert poles for their stages. We want to make sure you get the most out of your X-STAGE!
If you use X-STAGE inserts & bases that are from different editions - you may have issues with bearings getting stuck, so one of the best things to do is check with us before you order.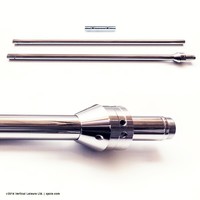 If you do want to order online, here are some tips to help you choose the right insert.
Firstly - check your original order paperwork - search your emails for X-POLE and you will find the SKU code on your order notification email. This is simply a product code that will start with an XST, or an NST.

Use this Product code to work out which edition you have.
XST160 - (the bearings on the pole look different to the picture above)
Most of these stages use XS model extensions with
XJ type x-joints.
If you have an older model pole insert that screws together, you should probably look at upgrading to a newer model. Simply keep your original bearings & buy a new insert pole. Call us for assistance :)
If you want to change the width of your pole, but you want to keep your base - please call our office about whether you can swap out the bearings on the insert that you're purchasing. This will ensure that your new insert is compatible with your base & won't get stuck!
Long story short - if you want to buy a newer insert to use with this type of stage - just call us first :)
XST02 - (the bearings on the pole look the same as the picture above)
These stages use XS model extensions with XJ joints.
The bearings on any new NST02 insert pole will have the newer style bearings & are compatible with your XST02 base.
You can buy current NST02 Silicone or Powder coated (pink or black available) pole inserts in our cart & use them in your stage.
In fact, you can use either the XST02 pole inserts or the NST02 inserts. Both will be compatible with your base, but the NST just uses a different X-Joint.
NST02 - (the bearings on the pole look the same as the picture above)
This is a newer model pole insert. It uses the new Keyway X-Joint & is only compatible with NST bases.
If you purchase an additional pole insert - it should be from the NST range of pole inserts.
These poles all use NE type extensions (we recommend the dual lined CX extensions).
These poles also only use the NJ type of X-joint.
LATEST PRODUCT RELEASE
NST03 - new product
This is a newer model (03) pole insert, released this year.
It uses the new Keyway X-Joint & is only compatible with NST03 bases.
The 03 series X-STAGE has seen a change to the bottom bearings (inside your stage base), and the stage poles inserts have a different end on them.
There are adapters available, so all NST02 & NST03 insert poles can interchanged.
This means you can buy one of our bargain priced Pink Powdercoated NST02 insert poles (available in 40 or 45mm), at the sale price, and use it with a current 03, or an older 02 series stage base. You only need an adapter to mix and match your poles. Easy!!
ANY QUESTIONS: or if you're unsure, call us on 02 9589 2645