The latest innovations in Pole & Aerial - the product release you don't want to miss!
If you've been following the X-POLE International news in the last couple of months you'll already know that the X-POLE brand is releasing some exciting new products this year.
What does it mean for us in Australia, and what does it mean if you already have an X-POLE at home or studio poles? A whole lot actually!! Check out the new releases below and general local release dates.

Time to get excited!
X-POLE International recently blew everyone away with a LIVE product release at one of the largest sports and fitness shows in Europe, FIBO, in Cologne, Germany; unveiling multiple new products, including; The Home Mount, The LYRAPOLE, The X-FLY Flying Pole, The Aerial Cube and X-LOCK, our amazing new static and spinning mechanism for XPERT poles and X-STAGES, which requires no tools. Read on for more
Aerial Hammock Set - Pink
Available in Aus now - limited stock just landed!
Aerial Hammocks are used for Aerial Yoga/Fitness, hung from low heights to the floor, the hammock is used to support the participant whilst they stretch, flip and hang upside down. Our X-POLE Hammock Set - Full Aerial Hammock Set
Perfect for Aerial Yoga
Pink or Purple in stock now
Home Mount
Available in Aus late 2017
The X-POLE Home Mount is the perfect balance between safety and discretion, allowing you to install a permanent mount for your home X-POLE, which simply blends into your ceiling and surroundings.
This is the ideal option for people that want a fixed mount for their pole, but don't want the bulk of a commercial mount; sleek, elegant & able to match your decor... more specs here
Lyra-Pole for X-Stage
Available in Aus late 2017
Designed to satisfy both the poler and aerialist alike, the LYRAPOLE combines both disciplines to produce a new type of artistry. The LYRAPOLE is fully compatible with both X-STAGE and X-STAGE LITE and is a great way to add a new dimension to your X-STAGE more specs here
The Amazing X-LOCK - from spin to static in a second!
There are two types of X-LOCK coming, one for X-PERT & one for X-STAGEs
Featuring our new proprietary static and spinning mechanism for XPERT and X-STAGES, which requires no tools and a reduced size upper dome, the XPERT PRO X-LOCK pole is simply the most advanced dance pole in the world!
Available Pre-Christmas 2017
The X-LOCK 'adjuster unit' will be available for separate purchase and can be fitted to your existing XPERT multi-piece and studio poles.
Available Pre-Christmas 2017
The X-STAGE and X-STAGE LITE will be enhanced with our revolutionary new 'X-LOCK' mechanism, making them possibly the most advanced Pole Dance podiums in the world. This additional functionality, eliminating the need for a tool, adds to the already vast flexibility of the X-STAGE range.
The new X-LOCK bearing unit will be available for separate purchase to upgrade the current X-STAGE.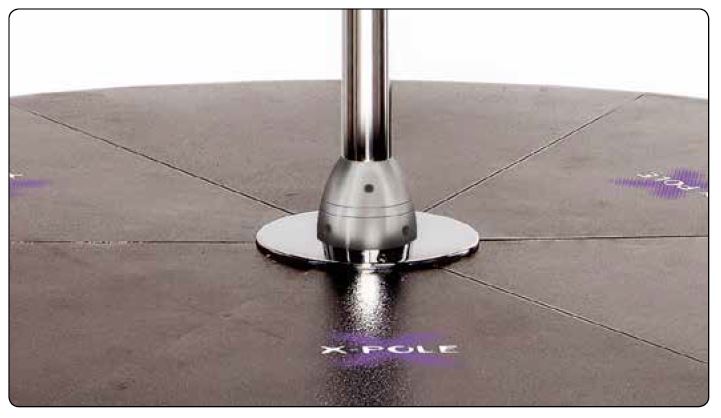 Early 2018 releases:
X-FLY – Flying Pole
For the ultimate combination of pole and aerial, X-POLE has developed its own Flying Pole: The X-FLY.
X-Fly can be hung from truss or secure aerial mounts and also from the X-POLE A-Frame, for a portable flying pole practice experience at home or on the go.
Aerial Cube
With rising demand for and popularity of aerial cubes, we have committed to developing our own, which was presented at FIBO 2017. Our Aerial Cube is very simple to assemble and can be dismantled for easy transportation.
For more check out the live launch video here:
https://www.facebook.com/xpoleinternational/videos/10155234325486602/